We are delighted to launch our Steady On Your Feet platform for South Tees NHS Trust and partners including Redcar & Cleveland Borough Council, Middlesbrough Council and Age UK Teesside. This significant launch marks another collaborative effort with NHS trusts and local authorities in the UK to enhance fall prevention.
Steady On Your Feet, a tailored fall prevention platform, offers personalised plans, home hazard assessments, and strength and balance training resources. It empowers older individuals to understand and mitigate their fall risks, promoting active and healthy living.
Kathryn Hodgson, falls clinical team lead, South Tees Hospitals NHS Foundation Trust, said: "Falls are the leading cause of accidental death in older people in the UK.
"Around a third of people aged over 65 and half of those over 80 fall at least once a year with an annual cost to the NHS of £2.3 billion.
"The Steady On Your Feet campaign aims to increase confidence in older people by offering helpful advice, guidance and resources as well as many simple tips to help them stay active, independent and safe."
Falls in older people can often be attributed to several causes, including reduced strength and balance, impaired vision or hearing, environmental hazards, poorly fitting footwear or changes to diet.
"Falling or feeling unsteady on your feet can impact a person's confidence," added Kathryn. "It can cause distress, pain, injury and loss of independence and not only affects the individual but also their family members and carers.
"The online Steady On Your Feet tool is easily accessible to people at home. They can complete it by themselves or with help from family members, at outpatient appointments with help from nursing staff or with help from one of our trained voluntary organisation partners.
"Once completed, the assessment will provide a fully comprehensive action plan with ideas, exercise suggestions and helpful advice on what they can do to reduce their fall risk."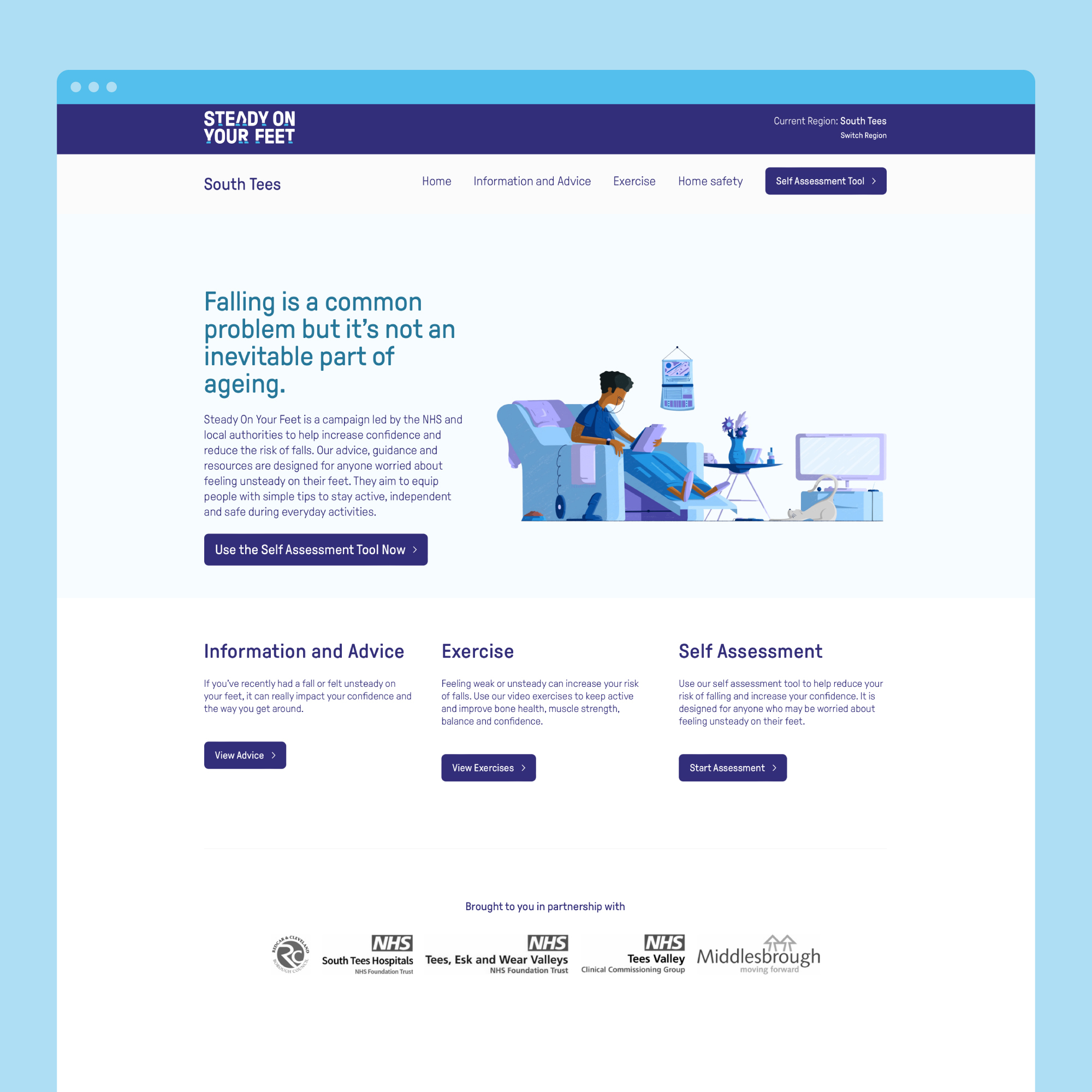 Dr Eileen Peck, Consultant Geriatrician at South Tees Hospitals NHS Foundation Trust, added: "Steady On Your Feet is a fantastic resource to help people understand their risk of falling and what they can do to prevent falls."
The platform is an intuitive web tool aiding locals in identifying their fall risks and providing clear, actionable steps to maintain their independence and active lifestyle.
Mark Easby from Steady On Your Feet said: "This launch is a crucial step towards making a positive impact in South Tees, aligning with our goal of expanding our network of fall prevention platforms across the UK."
Steady On Your Feet is designed for seamless integration with existing fall prevention pathways and provides flexibility and customisation options to meet specific needs, aligning with NICE guidelines. It offers a holistic approach to fall prevention and active living for the elderly, streamlining fall prevention efforts and reducing related healthcare costs.
Discover the new Steady On Your Feet platform for South Tees and see how we are revolutionising fall prevention in their area.
For more information about Steady On Your Feet, visit the website.