We're delighted to announce the launch of our Steady On Your Feet platform for Cambridgeshire County Council and Peterborough City Council. This milestone marks the fourth live platform in collaboration with NHS trusts and local authorities across the UK, with two more currently in development.
Steady On Your Feet is a comprehensive, tailored fall prevention platform offering a blend of personalised plans, home hazard assessments, and strength and balance training resources. It aims to empower older individuals to understand and mitigate their fall risks, while promoting active and healthy living.
Director of Public Health at Cambridgeshire County Council, Jyoti Atri explains: "The theme of this year's Falls Prevention Week is 'Turn Awareness into Action', and Steady On Your Feet is the ideal way to take action.
"Falls are one of the most common causes of injury in older people, particularly as winter approaches and the weather gets colder and wetter. But many falls are avoidable, particularly if you understand your personal risks and act now to keep doing the things you enjoy."
Councillor Richard Howitt, Chair of Cambridgeshire County Council's Adults and Health Committee, added: "With one in three 65-year-olds having experienced a fall, I'm pleased that we are launching this new risk checker which will help our residents stay stronger for longer.
"This is a fantastic example of a tool which supports our ambitions to reduce health inequalities, and for people to enjoy healthy, safe, and independent lives through timely support that is most suited to their needs."
The initiative embraced by Cambridgeshire County Council, is an easy-to-navigate web tool. It helps locals identify their fall risks and provides simple, actionable steps to maintain their independence and active lifestyle.
Mark Easby from Steady On Your Feet commented: "We are immensely proud of this launch. It's a significant step towards making a positive impact in Cambridgeshire and Peterborough, and adds to our growing network of fall prevention platforms across the UK."
"The essence of this year's Falls Prevention Week, 'Turn Awareness into Action', aligns strongly with our vision. We're not just creating a platform; we're shaping a community where prevention is prioritised, and every step counts towards reducing the risk of falls."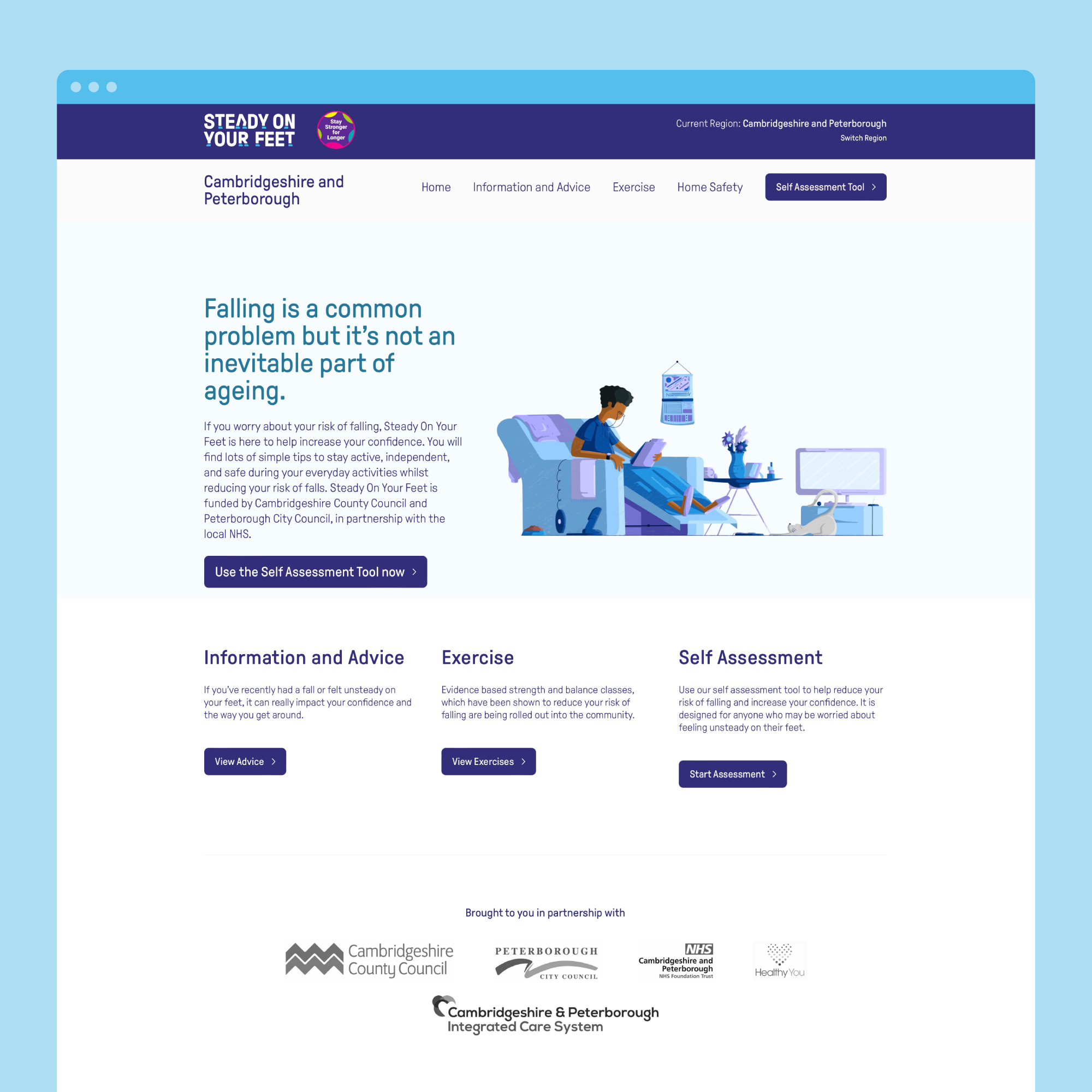 As an off-the-shelf solution, Steady On Your Feet is designed for seamless integration with existing fall prevention pathways, including the flexibility and customisation options to meet specific needs.
Aligned to NICE guidelines, the platform offers a holistic approach to fall prevention and active living for the elderly. By streamlining fall prevention efforts and reducing related healthcare costs, Steady On Your Feet represents an effective and efficient innovation for NHS trusts and local authorities.
Explore the new platform for Cambridgeshire and Peterborough, and discover how we contribute to safer, healthier communities in their area.